NVIDIA is opening early access to its Morpheus AI development framework for cybersecurity applications. Selected developers have access to Morpheus starting today with more developers joining the program over the next few months.
Just announced at NVIDIA GTC in April 2021, NVIDIA Morpheus gives security teams complete visibility into security threats with unmatched AI processing and real-time monitoring to protect every server and screen every packet in the data center. Security applications built on Morpheus help them respond to anomalies and update policies immediately as threats are identified, by building on NVIDIA deep learning and data science tools including RAPIDS, CLX, Streamz, Triton Inference Server, and TensorRT. Data analysis runs on NVIDIA-Certified servers built on the NVIDIA EGX platform or in qualified cloud instances that support NVIDIA GPUs, while traffic collection and telemetry can run on a variety of servers or switches plus the NVIDIA BlueField-2 data processing unit (DPU).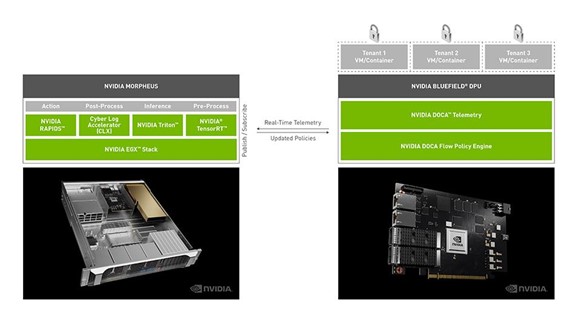 Developers in the Morpheus early access program have immediate access to components through the NGC catalog and can load the components into an Amazon Web Services Elastic Compute (AWS EC2) G4 instance — featuring an NVIDIA T4 or A100 GPU — to begin immediate development of cybersecurity applications and solutions. Early access will soon support the use of Red Hat Enterprise Linux (RHEL) and Red Hat OpenShift on NVIDIA-Certified servers built on NVIDIA EGX for on-premises development/deployment, and RHEL on NVIDIA BlueField DPUs for enhanced data collection and traffic screening that can protect every server. Support for running Morpheus on Ubuntu is expected soon afterwards, followed by additional OS options.
Developers accepted to early access are being notified this week and NVIDIA plans to expand the early access program quickly to include more security ISV partners, end users, academics, and other security professionals who wish to develop scalable, adaptive, AI-powered cybersecurity solutions.
If you are a customer, partner or researcher interested in joining the Morpheus early access program, please apply here.
Additional Resources: