Wireless carriers have been hyping the next generation cellular technology, 5G, for years but the reality of it is certain to start rolling out this year. Wireless networks are always evolving, but this is more than a cellular upgrade. 5G not only increases speeds but offers enhancements in latency, vastly improving responsiveness that opens new capabilities in wireless technology such as offing a replacement for traditional home internet service, a boost to self-driving cars, and new possibilities for the internet of things (IoT).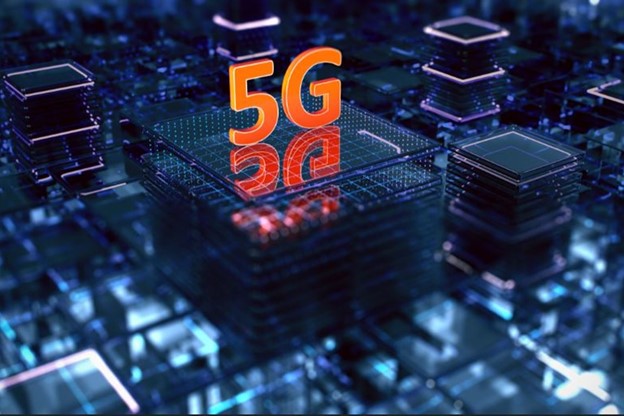 Key market trends driving 5G technology adoption
Demand is increasing for gigabyte-per-second mobile device performance that dramatically changes how people work and interact in the cloud. 5G is expected to deliver significantly enhanced performance compared to 4G LTE. This includes infinite connectivity, higher bandwidth, lower latency, increased reliability, and faster mobility. The following key technologies are driving the performance requirements:
Self-driving cars and mission-critical virtual healthcare services that require ultra-reliable, high-bandwidth, and low-latency communications.
IoT and machine communications for smart factories, smart homes, and smart communities that exponentially increase the number of internet connections.
Emergent technologies such as artificial intelligence, virtual reality (VR), augmented reality (AR), and drones that change the way humans interact with machines and with each other. For people that are thinking that drone-based services aren't a reality, Chinese online retailer JD.com today delivers shopping packages using drones in mainland China.
Continued massive growth in video traffic requiring increased network efficiency, faster performance, and improved network latencies.
Analysts predict that service providers can quickly monetize new 5G services in areas such as consumer-based media and entertainment, self-driving cars, smart cities, healthcare, and automated factories.
When to expect 5G services
After years of talking about 5G, the telecom carrier most influential players are starting to roll out 5G services. According to Fierce Wireless, analyst firm CCS Insights now expects that 5G connections will approach 280 million by 2021, a 25% rise from their October 2017 forecast. Further, they predicted that the 1 billion mark in terms of 5G connections will be established in mid-2023 and 2.7 billion by 2025. That's one third of the world's population!
F5 Networks recently announced several new solutions and enhancements designed to allow service providers to launch 5G services. Included are improvements to their network functions virtualization (NFV) offering that enable the optimization and scale of existing 4G LTE and new 5G networks. These F5 solutions are powered by high performance networking based on NVIDIA Mellanox Ethernet networking technologies including 100Gb network adapters, switches, and cables.
Successful moves to 5G
Although a transition to a 5G network seems like a giant leap, good news is that many of the F5 solutions and technologies that support 5G capabilities are already well-defined and in use by service providers and enterprise organizations around the world. Thankfully, many of the F5 NFV solutions can be used to optimize and help secure your existing 4G LTE networks:
NFV
L4-L7 network services consolidation
Multi-access edge computing (MEC)
Automation and orchestration
Network slicing
GPRS Tunneling Protocol (GTP) security
IoT solutions for the access network and data center
DDoS solutions in the access network, data center, and cloud
Intrusion prevention systems (IPS)
Web application firewalls (WAF)
Load balancers and application traffic managers
Getting 5G capabilities up and running as quickly as possible will help you maintain your competitive edge and secure new 5G service revenues. At the same time, you must maintain and optimize existing 4G LTE networks for your customer base. Hence, F5 believes it is critical to follow three key imperatives to succeed while transitioning to 5G:
Optimize your network—Simplify and scale your existing 4G LTE network while transitioning to 5G, leveraging high-performance virtualized software solutions.
Secure your platform—Protect your 5G network at massive scale at every layer and for multiple threats.
Monetize new solutions—Accelerate the time to market for new, compelling, and differentiated 5G services to your enterprise customers and consumer base.
Delivering a high performance and efficient network is important for enabling the essentials of providing a 5G network at scale.
Cloud-based technologies to meet 5G network demands
With the rapid transition to high performance virtualized or cloud-based edge, core, and data networks, service providers can scale and simplify an existing 4G LTE network and evolve to 5G with high-performance virtualized software solutions from F5. With F5, you can do the following:
Simplify the core network architecture and operations and reduce costs with the integration of L4-L7 network services into a single platform, deployable as hardware and virtual appliances.
Migrate seamlessly to a NFV infrastructure using a broad range of virtual network functions (VNFs) and a VNF manager.
Meet 5G's latency and high throughput requirements with multi-access edge computing (MEC) solutions.
Support transition from 4G to 5G and services migration.
Leverage automation and orchestration tools to simplify operations and improve efficiency.
Transition from CapEx to OpEx consumption models with subscription-based licensing models.
Virtualized and cloud-based technologies
While virtualization and cloud-based technologies improve scalability, agility, and operational simplicity, they also impose significant performance penalties by using host CPU cycles for processing networking traffic. This problem becomes more critical as bandwidth increases to 25–200 Gb/s, which drives higher CPU consumption and leads to server proliferation.
To solve this challenge, higher performance and increased throughput is enabled through F5 BIG-IP Virtual Edition support of the flagship NVIDIA Mellanox ConnectX family of SmartNIC adapters, including 100-Gb Ethernet and DPDK drivers. Working together, NVIDIA and F5 provide a solution that boosts data plane performance to near–line rate using optimized DPDK drivers that reduce the overhead associated with processing packets.
NVIDIA network adapters significantly improve the performance of the entire F5 BIG-IP VNF Portfolio to near–line rate of 100-Gbps throughput. The ConnectX family of network adapters with 200/100/50/25/10-GbE speeds and networking offload engines are purpose-built to meet the extreme networking bandwidth required for an 5G infrastructure upgrade and services. With multiple times the performance packed into the same infrastructure footprint, service providers working with F5 and NVIDIA can quickly reap the benefits of new 5G services to maximize the return on a 5G network build-out.
NVIDIA Mellanox DPDK technology
Data Plane Development Kit (DPDK) is a software acceleration technique consisting of a set of software libraries and drivers that reduce the CPU overhead caused by interrupts sent each time a new packet arrives for processing. DPDK implements a polling process for new packets and the key benefits of significantly improving processing performance while eliminating PCI overhead and maintaining hardware independence. Although DPDK technology consumes some CPU cycles, ConnectX-5 and ConnectX-6 Dx Intelligent NICs offer the industry's highest bare-metal packet rate of 148 million packets per second for running cloud applications such as VNFs over DPDK. NVIDIA is an active participant and leads the DPDK software community in driving innovation.
Mobile World Congress demo
In the technology world, seeing is believing! F5 and NVIDIA have put together a demo that shows a 400-Gbps high performance, ultra-high density Ethernet fabric in a single rack that portrays the scale and performance needed for 5G network infrastructure. Several big IP VNFs—including traffic management, DDoS, firewalls, and load balancers—perform respective L4-L7 network services at a massive scale over this high-performance Ethernet fabric to manage real-world 5G traffic.
Figure 2 shows the setup and configuration for this demo.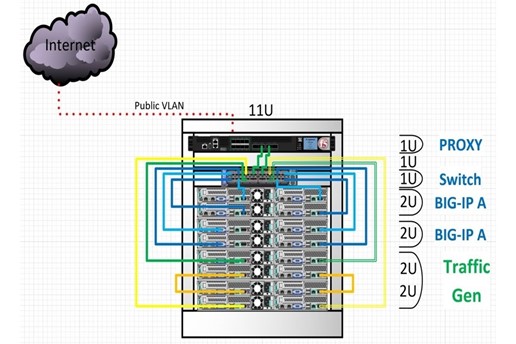 The focus of this demo is on using commercial off-the-shelf (COTS) hardware running BIG-IP VE with NVIDIA NICs and switches to achieve 100G+ throughput in an ultra-high, high-density solution that is available for purchase today. F5 and NVIDIA are demonstrating real-world performance of a qualified and certified commercially available solution demonstrating the following:
Two servers with two dual-port, 100-Gb ConnectX-5 SmartNICs for traffic generation
NVIDIA Mellanox Spectrum SN2010 and SN2100 Ethernet switches delivering line rate throughput, with zero packet loss!
Two servers with dual-port, 100-Gb ConnectX-5 SmartNICs for high availability, capable of taking tremendous loads and fending off attacks
Performance of 400G is 15% using DPDK driver = 340 Gbps throughput by bonding multiple NVIDIA 100-Gb NICs