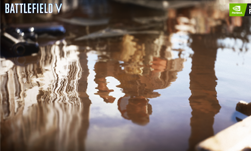 NVIDIA RTX Top 3: Week of November 30, 2018
Every week, we'll be delivering 3 interesting stories coming from the world of RTX Game Development.
1 – Ray Tracing Optimizations Coming to Battlefield V
"People can expect us to keep improving our ray tracing as time goes, as both we at DICE and Nvidia have a bunch of optimizations coming in from the engine side and driver side and we are far from done. "
– Yasin Uludağ (Software Engineer, Rendering at EA DICE)
ARVE Error: src mismatch
url: https://www.youtube.com/watch?time_continue=1&v=F-ZlMl9L3kM
src in: https://www.youtube.com/embed/F-ZlMl9L3kM?start=1&feature=oembed
src gen: https://www.youtube.com/embed/F-ZlMl9L3kM?feature=oembed
2 – Effectively Integrating RTX Ray Tracing into a Real-Time Rendering Engine
RTX is NVIDIA's new platform for hybrid rendering, allowing the combination of rasterization and compute-based techniques with hardware-accelerated ray tracing and deep learning. This blog will assist readers familiar with the Microsoft DXR API to architect effective integrations of the technology.

3 – GameWorks RTX Showcase
Curious as to which of your favorite developers are working with RTX? Check below for a more detailed review. We'll be adding more partners to the Showcase as new games are announced!
Gameworks Showcase