Developed by XeloGames, an indie studio of just three, and published by Headup Games, Escape from Naraka achieves eye-catching ray-traced lighting using RTX Global Illumination (RTXGI) and significant performance boosts from Deep Learning Super Sampling (DLSS). NVIDIA had the opportunity to speak with the XeloGames team about their experience using NVIDIA's SDKs while developing their debut title.  
"We believe that, sooner or later, everyone will have ray tracing," XeloGames said, discussing their motivation to use RTXGI, "so it's really good for us to start earlier, especially in Indonesia."
Starting early, in this case, is an understatement for XeloGames. Escape from Naraka is actually the first-ever ray tracing title from Indonesia; the team used ray-traced reflections, shadows, and global illumination to paint a dramatic labyrinth for the player to explore. 
Such a feat, executed by such a small studio, speaks to the usefulness of RTXGI as a tool for development. Escape from Naraka was made in Unreal Engine 4, using NVIDIA's NvRTX branch to bring ray tracing and DLSS into production. Once ray-traced global illumination was integrated into the engine, XeloGames reported benefits they immediately experienced:
"RTXGI really helps with how quick you can set up a light in a scene. Instead of the old ways where you have to manually adjust every light, you can put in a Dynamic Diffuse Global Illumination (DDGI) volume and immediately see a difference."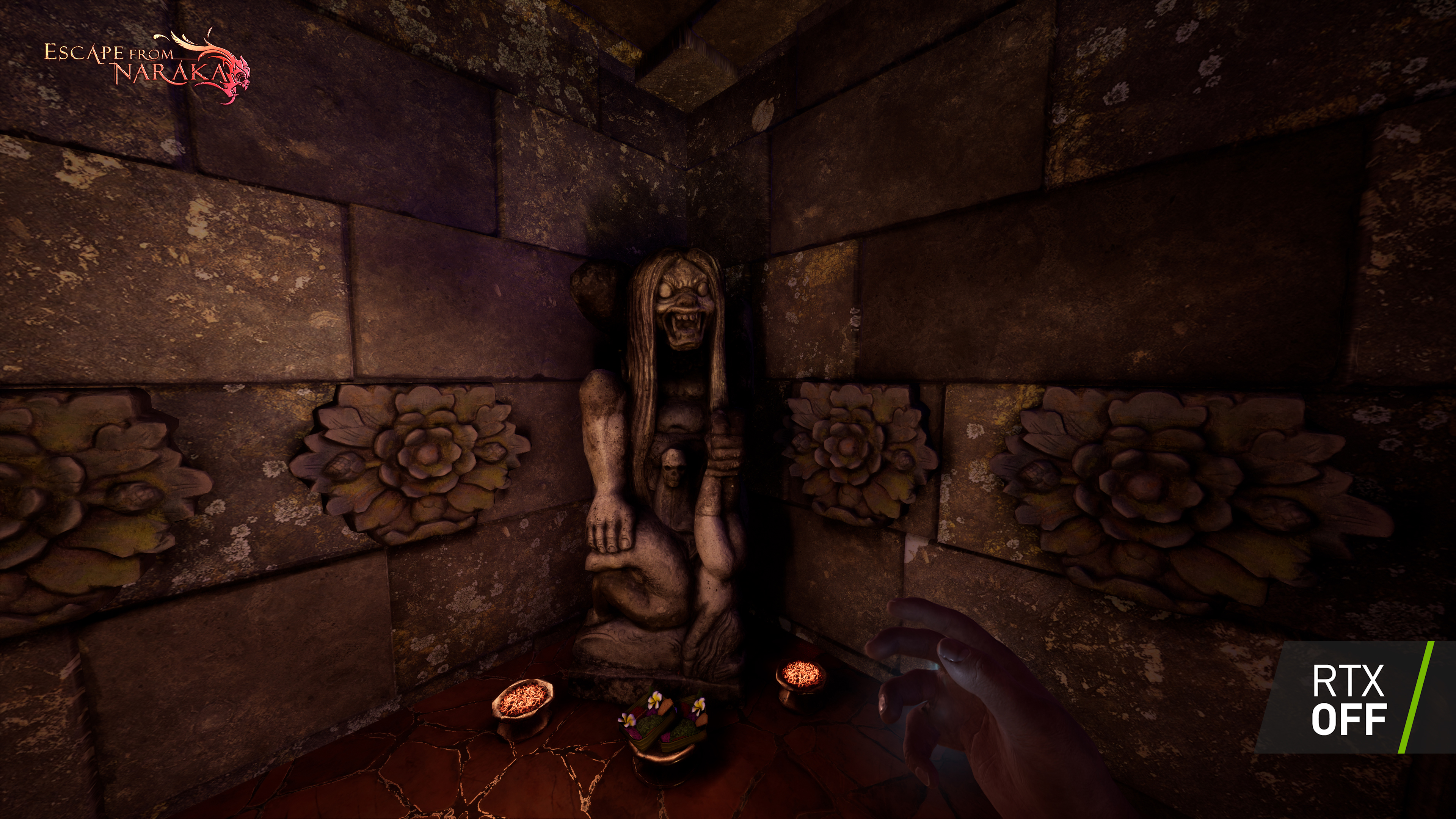 Rapid in-engine updates expedited the task of lighting design in Escape from Naraka, alongside the ability to make any object emissive for "cost-free performance lighting", XeloGames added. Of course, implementing RTXGI in their title came with its challenges as well. For Escape from Naraka specifically, a unique obstacle presented itself; the abundance of rocks in their level design often made it challenging to find opportunities to make full use of ray-traced lighting. "Rocks are not really that great at bouncing lights around", XeloGames developers remarked.
RTXGI is undoubtedly a powerful tool to have in a game developers toolkit, but the mileage that can be achieved with its features can vary case-by-case. An important step before using ray traced global illumination is deciding if it's features are a right fit for your game.
Regardless of the rock conflict (mitigated by making certain textures emissive to brighten darker areas) and a couple of bugs that had to be squashed along the way, XeloGames' three person team was able to achieve a beautiful integration of RTXGI in Escape from Naraka. Check out the Escape from Naraka Official RTX Reveal Trailer for a look at how RTX Global Illumination was able to enhance the game's visual appeal:
"It definitely made scenes look more natural," said XeloGames developer on the enhancements RTXGI brought to their game, "lights bounce around more naturally instead of just directly." 
The results of global illumination can speak for themselves, pairing excellently with ray-traced reflection and shadows for stunning results.
RTXGI is not the only NVIDIA feature XeloGames packed into their newest release. Deep Learning Super Sampling (DLSS) is implemented as well to bring an AI-powered frame rate boost.
"Adding NVIDIA DLSS to the game was fast and easy with the UE4 plugin, providing our players maximum performance as they take on all the challenges Escape From Naraka has to offer."
XeloGames reported a swift implementation of DLSS with NvRTX, emphasizing the importance of using DLSS as a frame booster as well as an enabler to turn ray tracing on with the performance headroom it provides. In concert, RTXGI and DLSS empower a rich and fully-immersive experience in Escape from Naraka.
Escape from Naraka is available now on Steam.
Check out XeloGames at their official website.
Learn more and download RTXGI here.
Learn more and download DLSS here.
Explore and use NVIDIA's NvRTX branch for Unreal Engine 4 here.