Spearheading research in very high-speed silicon nanophotonics/plasmonics, the European plaCMOS project has reached a successful conclusion. The 51-month project explored ferroelectric materials to improve performance and reliability. The team achieved world-leading advancements related to key components used in optical links: modulators, photodiodes, and optical switches.
Modulators using barium-titanate integrated on silicon were demonstrated, and monolithically integrated modulators with BiCMOS drivers were tested up to 187 GBaud. Germanium photodiode designs were generated achieving 3 dB bandwidths up to 265 GHz. Ferroelectric nonvolatile optical BTO switches were demonstrated with 100 states in a closed loop control scheme.
These groundbreaking results have been published in the article, A Ferroelectric Multilevel Nonvolatile Photonic Phase Shifter in the journal Nature Photonics. High-profile articles have also appeared in Nature Electronics, Nature Materials, and IEEE/OSA journals.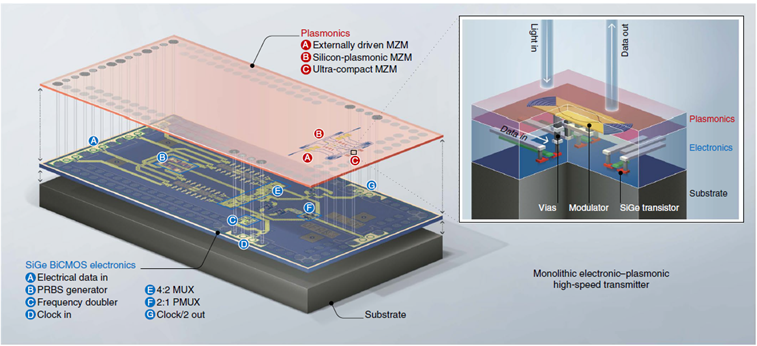 plaCMOS project overview
The consortium brought together eight partners from industry and academia, all renowned experts in their fields: NVIDIA Mellanox, MICRAM Microelectronic GmbH (now Keysight Technologies), ETH Zurich, IHP Leibniz-institut für innovative mikroelektronik, Aristotle University of Thessaloniki, IBM Research GmbH, Universität des Saarlandes, and Lumiphase AG.
Funding was provided by the European Commission's Horizon 2020 program for research and innovation and the project was coordinated by Elad Mentovich, Head of the Advanced Development Group at NVIDIA Mellanox.
The innovative technologies developed in plaCMOS provide the foundation for the evolution of optical interconnects in data center networks for the second half of the decade. The team has furthered numerous research fields, including materials engineering and nanofabrication, plasmonic-photonic devices, high-speed analog electronics, and transceiver design.
Related projects
Research on the leading-edge technologies established in plaCMOS continues in the spin-off projects, NEBULA and plasmoniAC. These new projects aim to extend the plaCMOS material platform and investigate new applications of the technology in co-packaged optics, inter-data center coherent links, and optical neuromorphic computing.
Additional resources
For more information, see the articles listed below.