To help denoise and enhance the resolution of medical images from existing scanners, Menlo Park, California-based Subtle Medical, a member of NVIDIA's startup accelerator, Inception, announced this week approval from the U.S. Food and Drug Administration to market their SubtleMR imaging processing software.
"We are pleased to receive FDA clearance for SubtleMR, and we look forward to helping radiology departments and imaging centers get the most out of their existing MRI scanners," said Enhao Gong, PhD, Founder and CEO of Subtle Medical. "This is an important milestone for the company as it broadens our portfolio of technologies developed for radiologists and their patients."
Subtle Medical's proprietary software uses deep learning to denoise medical images from existing scanners, integrating seamlessly into a medical institution's radiology workflow. This benefits patients who struggle to hold still during the MRI exam, decreases rescans, and allows medical institutions to use their existing medical imaging infrastructure.
On the backend, the company uses an NVIDIA DGX Station and an NVIDIA DGX-1 system for training, along with NVIDIA T4s for inference. The deep learning framework is based on a deep residual encoder-decoder convolutional neural network trained to improve Magnetic Resonance Imaging acquisition and quality. 
By using NVIDIA's inference accelerator TensorRT, with the cuDNN-accelerated TensorFlow deep learning framework, the company has seen a speedup for 8.8X.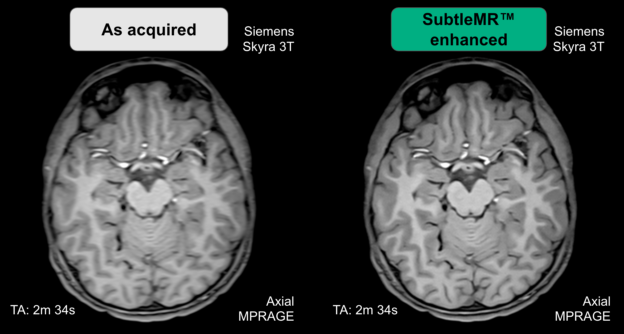 The company's first product, SubltePET, received FDA Clearance in 2018 for the enhancement of images from Positron emission tomography scans. With TensorRT, SubtlePET saw an 5.8X speedup for inference.
If you want to learn more, Subtle Medical recently participated in an NVIDIA webinar, How AI is Transforming Medical Imaging.