This week, Qure.ai, a healthcare AI startup and a member of NVIDIA Inception program, launched a deep learning-based technology to accurately identify bleeds, fractures and other critical abnormalities in head CT scans.
The system has the potential to radically help patients who have undergone a traumatic head injury or are showing symptoms of a stroke, as it can immediately read a CT scan. The startup's method could be crucial in situations where a radiologist is not available or has a backlog of images to review.
"Qure.ai's new head CT scan technology rapidly screens scans in under 10 seconds to detect, localize and quantify abnormalities, as well as assess their severity," Prashant Warier, Co-Founder and CEO, Qure.ai said in a company press release. "This enables patient prioritization and the appropriate clinical intervention."
Using NVIDIA TITAN X GPUs and NVIDIA Geforce GTX 1080 GPUs with the cuDNN accelerated PyTorch deep learning framework, the team trained their system on a collection of 300,000 labeled CT scans. The team then validated their results on 491 CT scans, comparing them to results of three senior radiologists at leading institutions including the Mayo Clinic. The Qure.ai method achieved a level of 95% accuracy in identifying abnormalities.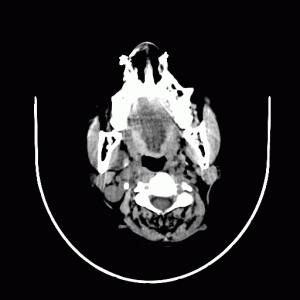 Examples of the AI system detecting abnormalities in the brain.
For inference, the team uses the same GPUs used during training as well as NVIDIA Tesla GPUs on both the Amazon Web Services cloud and the Microsoft Azure cloud.
"Training deep learning models, especially in healthcare, is only one part of building a successful AI product. Bringing it to healthcare practitioners is a formidable and interesting challenge in itself," Ankit Modi, an AI scientist and founding member at Qure.ai wrote in a blog post.  "There are other operational hurdles like convincing doctors to embrace AI, offline working style at some hospitals (using radiographic films), lack of modern infrastructure at radiology centers (operating systems, bandwidth, RAM, disk space, GPU), varying procedures for scan acquisition etc," he explained.
The results of the startup's research were recently published on arXiv.org. The paper is titled "Development and Validation of Deep Learning Algorithms for Detection of Critical Findings in Head CT Scans."
Read more>