A team of NVIDIA artists released never-before-seen imagery and behind-the-scenes videos from the Omniverse RTX Racer playable sample project. The clips and imagery are the result of 3 weeks of progress, showcasing the Omniverse platform's power in multi-GPU rendering, dynamic lighting, and real-time rendering.
The racing demo consists of a loop level, where a player controls a dune buggy vehicle, with the ability to steer, accelerate, decelerate, and brake.
With no difference between editing and "play" mode within NVIDIA Omniverse, users can move the camera and control the vehicle, or change the lighting, simultaneously, in real time.
Creative and Collaborative Workflows in Omniverse

The photorealistic scenes, characters, and props were created using a variety of creative applications such as Pixologic ZBrush, Autodesk 3ds Max, Autodesk Maya and Blender, textured in Substance Painter, and rendered with Omniverse RTX Renderer. Using Omniverse Create, two artists worked collaboratively on the rocky, desert environment, leveraging the platform's live sync abilities to adjust environment art, layout and lighting simultaneously. The Omniverse platform's simulation suite, including NVIDIA PhysX 5, delivered physically accurate simulation, providing players with a true-to-reality experience as they raced their buggy across the rugged terrain.

The cheeky alien main character was sculpted entirely in ZBrush, refined in Autodesk Maya and textured in Substance Painter.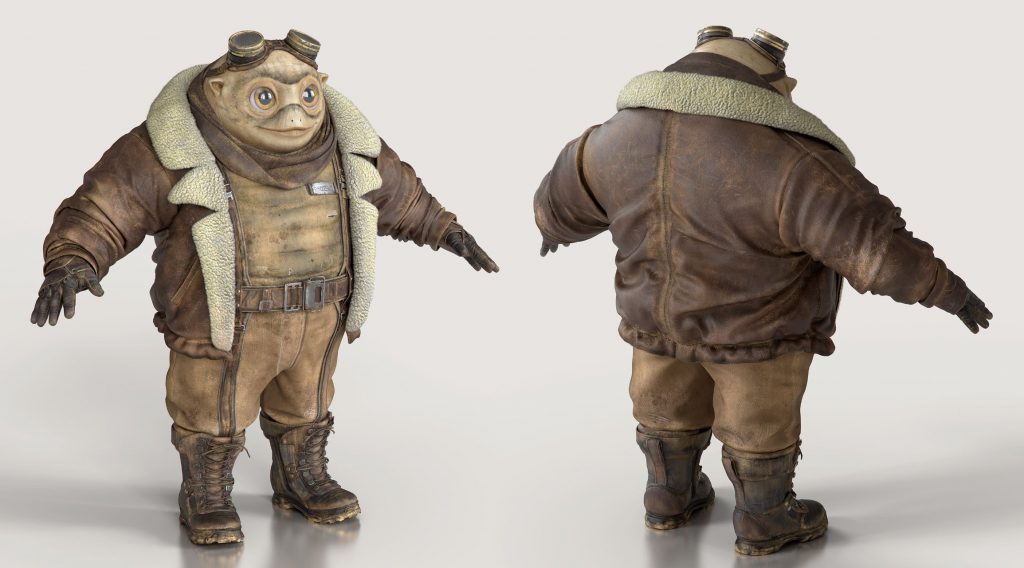 The dune buggy, a custom vehicle designed to race around desert dunes, was modeled in Autodesk Fusion 360 and textured in Substance Painter. The vehicle is physically based, and went through various iterations in size and dimensions to find the optimal racing balance in the physically accurate environment.
One Renderer, Dual Personalities
Omniverse RTX Renderer works in two different modes: real-time ray-traced mode and referenced path-traced mode. The demo is able to run in both modes without a significant difference in graphics quality — the materials and visual output are very similar.
At a high level, both modes implement the same rendering algorithm for path tracing, but with different optimization and approximations choices. The real-time ray-traced mode is typically used in real-time simulation applications such as games, while the reference path-traced mode is used for projects requiring ultra-high fidelity, final-frame quality results as it accumulates many samples over many frames, often requiring multiple GPUs.
Leveraging the power of four NVIDIA RTX 8000 GPUs, the NVIDIA team experimented with referenced path-traced mode, ultimately achieving offline film quality rendering at near real-time speeds.
Bringing it to Life with Omniverse Physics
The Omniverse RTX Racer project also showcases NVIDIA Omniverse's advanced physics simulation suite including PhysX 5, exclusively available to the public as part of the platform, NVIDIA Flow, and Blast.
PhysX provides the powerful vehicle authoring technology that made the dune buggy come to life. The same vehicle authoring technology is used as part of the new NVIDIA DRIVE Sim platform for training and validating self-driving cars, now built entirely on Omniverse. With accurate steering, suspension, wheel collision, and tire friction behavior, users can easily create multiple instances of different styles of vehicles.
The team of artists and developers used this project to experiment with Flow, a sparse grid-based fluids simulation package for real-time applications that was recently integrated into the Omniverse platform. Flow was used to simulate the buggy's blazing rocket engine and cloudy dust trail. This effect is written in Slang, the NVIDIA cross-platform shading language, and simulated entirely on NVIDIA GPUs.
The Omniverse RTX Racer sample is a living project with future iterations to come. Learn more about NVIDIA Omniverse and download the open beta today.
Dive further into Omniverse RTX Renderer, Omniverse Physics, and Collaborative Content Creation for Game Development in our exclusive, free-to-access GTC On-Demand sessions. For additional support, check out the developer forum and join the Omniverse Discord server to chat with the community.
Credits: Creative Director: Gavriil Klimov, Lead 3D Artist: Gregor Kopka, Senior 3D artist: Andrej Stefancik, Lead Character Artist: Alessandro Baldasseroni, Lead Environment Artist: Jacob Norris, Senior Lighting Artist: Artur Szymczak, Senior 3D Artist: Ilya Shelementsev, Lead VFX Artist: Fred Hooper