Over the last several years, NVIDIA has sought to democratize AI. From groundbreaking innovations like CUDA and Tensor Cores, through to meticulous optimizations to the open-source software widely used in AI projects, we are investing in technology that will help users invent the future. As part of this initiative, we want everyone to have simple access to accelerated AI software.
At re:Invent this week in Las Vegas, Amazon Web Services (AWS) introduced AWS Marketplace for Containers, which enables users to discover and deploy containers on Amazon Elastic Container Service (Amazon ECS) and Amazon Elastic Container Services for Kubernetes (Amazon EKS). AWS offers powerful NVIDIA GPUs for accelerated compute on these services.
To make it simple for users to get access to optimized software from NVIDIA for use on Amazon ECS and Amazon EKS, the AWS Marketplace for Containers is debuting with six NVIDIA AI containers:
CUDA by NVIDIA

MXNet by NVIDIA

PyTorch by NVIDIA

TensorFlow by NVIDIA

TensorRT by NVIDIA

TensorRT Inference Server by NVIDIA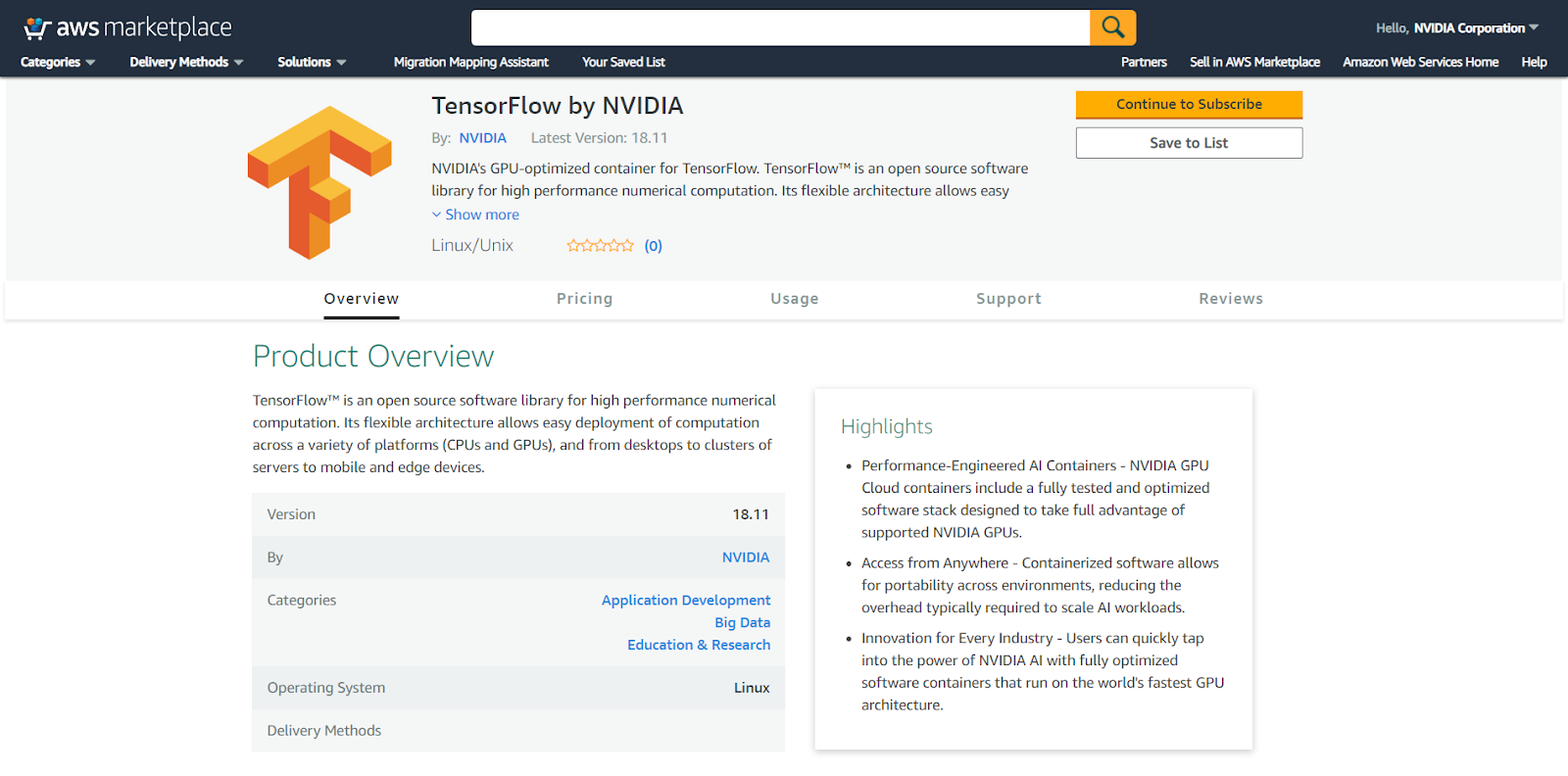 Containers are an excellent way to distribute complex software, since an application or framework and all of its dependencies can be pre-configured and wrapped up in a convenient package. They are particularly useful for deep learning software, which is notoriously complex and difficult to install. These Docker containers running on the NVIDIA Volta Deep Learning AMI include the complete accelerated software stack from NVIDIA, from drivers and runtimes up through the optimized frameworks and sample model applications. They are hand-tuned by NVIDIA engineers to maximize performance on NVIDIA GPUs. NVIDIA provides the containers at no charge, so your only cost is compute time on AWS.
The selection of NVIDIA AI containers available from AWS Marketplace are based on the work we do for the full set of AI containers available from our NGC container registry (which are also fully compatible with AWS), and they feature the exact same pre-integrated software stacks and optimizations. Being available on AWS Marketplace means users have an even faster way to find and deploy these optimized containers into production directly from the AWS user interface.
Democratizing AI means making the latest tools and innovations available to everyone without barriers. By working with Amazon to make accelerated software available from the AWS Marketplace for Containers, we are making it easier for even more data scientists, researchers, and developers to invent the future with NVIDIA GPUs and AWS.
Visit AWS Marketplace for Containers now or learn more about CUDA, NVIDIA deep learning frameworks, and NVIDIA TensorRT.