Data is the backbone to building state-of-the-art accurate AI models. And easy access to high-quality data sets can reduce the overall development time significantly. However, the required data may be siloed, can come from different sources (for example, sensors, images, documents) and can be in structured as well as unstructured formats. Manually moving and transforming data from different sources and formats to derive meaningful insights can be tedious and time consuming.
Vyasa, a leading provider of tools in the field of biomedical analytics, developed a suite of products that efficiently integrate with existing compute infrastructure via an extensive RESTful API architecture. Allowing users to derive insights from analytical modules including question answering, named entity recognition, PDF table extraction and image classification, irrespective of where that data resides. Vyasa technologies can integrate external data sources (for example, Pubmed, patents, and clinical trials) with a client's internal data sources including documents, images and database content.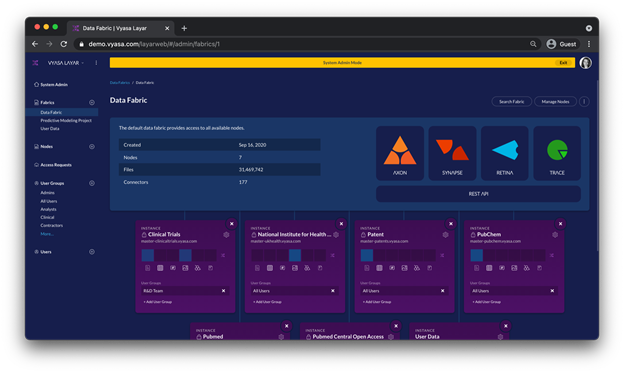 Vyasa's solutions are being used by data scientists, researchers, and IT managers in the field of life sciences and healthcare, ranging from pharmaceutical and biotechnology companies, to consulting firms and healthcare organizations. Vyasa leverages NVIDIA Clara Discovery, an accelerated computational drug discovery framework, Triton Inference Server, and RAPIDS GPU-accelerated algorithms on an NVIDIA AI computing platform, DGX Systems.
Available through the NGC catalog, NVIDIA's GPU-optimized hub of HPC and AI software, Vyasa's product suite includes the following features:
Layar – A secure, highly scalable, data fabric solution that can be added to existing enterprise data architectures to augment analytics capabilities or can operate as a standalone data fabric for text, image, and data stream integration and analytics.
Axon – A knowledge graph application that enables derivation of dynamically generated knowledge graphs directly from integrated data and document sources integrated in a Layar data fabric.
Retina – An image analytics application that offers a wide range of deep learning image-related tasks, including management, annotation, and deep learning analytics on images.
Synapse – Provides "Smart Table Technology" that directly connects a user's spreadsheet content to the analytical capabilities of Layar Data Fabrics.
Trace – Trace, a geospatial application that leverages structured data to plot businesses, assets, and intellectual property in relation to trend and document content derived from Layar Data Fabrics.[3]
Get started with Vyasa by pulling the Helm chart from the NGC catalog.