This summer, student interns at Booz Allen Hamilton bested the competition on edge computing with the help of NVIDIA Jetson Nano.

The Booz Allen Summer Games Challenge (SGC) calls on student interns across the U.S. to develop breakthrough solutions for its clients' most pressing problems. This summer, Project RAZOR placed top 10 among artificial intelligence and machine learning projects with a fully autonomous ground vehicle powered by Nano.

The team competed against 80 other teams of four to five students developing projects over 10 weeks. Previous SGC winning projects include technology that helps the blind navigate, as well as ways to fight human trafficking and global disease.

With high performance and energy efficiency of Jetson Nano, the Project RAZOR vehicle was able to address some of the greatest challenges in operating unmanned vehicles, placing the team at the very top of the competition.

"The team went from their first introductory class to machine learning and computer vision to functional ROS and machine learning inference on Jetson Nano in less than five weeks," said Chu Lahlou, Lead Data Scientist and Solution Architect at Booz Allen Hamilton who led this summer's challenge. "Nano was instrumental to the demonstration of edge computing capabilities and values to our clients' missions and easy to kick start with the abundant resources NVIDIA developer site provided."

The Jetson Nano compute platform at the vehicle's core delivers 472 GFLOPs for running modern AI algorithms fast. It runs multiple neural networks in parallel and processes several high-resolution sensors simultaneously, consuming as little as 5 watts.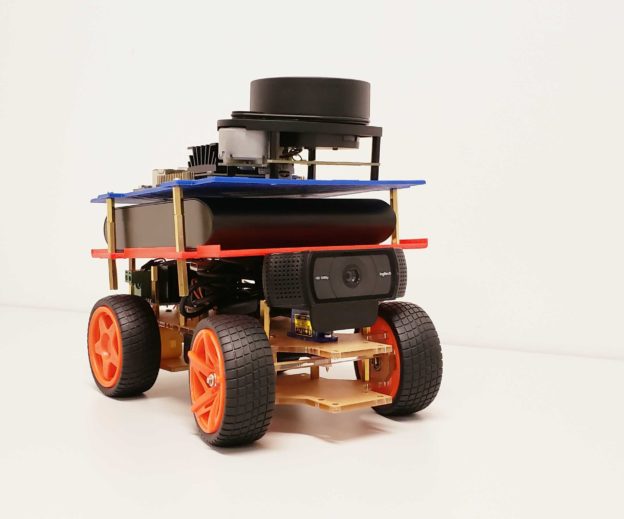 Nano also supports many popular deep learning frameworks, including TensorRT, making it easy to integrate preferred models and frameworks.

These capabilities allowed the Project RAZOR team to build a fully autonomous ground vehicle with navigation, mapping, localization, object detection, and path planning.

The vehicle integrates multimodal sensor inputs — including lidar and optical signals — into actionable insights, including a map with annotations for detected objects and their positions as well as the shortest and most secure paths to the objects.

Using edge computing, the project augments human operators in making decisions, eliminates offsite servers as well as wireless transmission in constrained and latency-critical environments.

Leveraging cutting-edge hardware and software technologies such as Jetson Nano's embedded GPU and efficient machine learning inference with TensorRT, near real-time response may be achieved in critical missions in applications spanning defense, intelligence, disaster relief, transportation, and more.

Learn more about Booz Allen's Summer Games internship program here.