Embedded Computing took center stage last week in Pittsburgh, PA. The Jetson team sponsored an F1/10 autonomous racing competition at Carnegie Mellon and participated in Embedded Systems Week (ESWeek), a premier event covering all aspects of embedded systems and software, where we showed the Robotics Teaching Kit with 'Jet'.
F1/10 – Shift Into High Gear with Jetson
College students went hands-on with hands-free car racing in the inaugural F1/10 competition featuring five university teams – Arizona State University, ETH Zurich, Temple University, University of New Mexico, and University of Pennsylvania. Through their work designing and building autonomous 1/10th scale (but 10 times the fun!) F1 race cars using a NVIDIA Jetson TK1, students were able to learn and apply the principles of perception, planning, and control, which are key for self-driving vehicles – majority of the teams began assembling their cars just 6 to 7 weeks prior to the completion. The fastest lap times were set by the PRECISE Racing team from the University of Pennsylvania, who managed to complete a lap of 812 feet in only 63.8 seconds, reaching top speeds of 16mph, which is incredibly fast for a car of this size.

"We heard NVIDIA offered a university teaching kit and felt it closely aligned with what we wanted to do," said Dr. Madhur Behl, the University of Virginia assistant professor who helped organize the event along with Professor Rahul Mangharam. Jetson was selected for a variety of reasons, including its integration of hardware sensors, I/O expansion support, and ease of use. Professor Behl also cited his school's previous history using Jetson for machine learning and general research, as well as its long-standing history working with NVIDIA platforms and the
CUDA Toolkit
. "We've worked with Jetson before and knew it was an ideal fit, so it was really a no brainer to go that route," he said.
F1tenth.org
describes in detail how one can build, drive, and race these cars in less than three hours.
ESWeek – A Jet Set Destination
In conjunction with this event, ESWeek also featured an NVIDIA session where the team discussed how to teach robotics with the 'Jet' Teaching Kit for Educators. The NVIDIA team discussed the company's
GPU Educators Program
and Robotics Teaching Kit with 'Jet', a low-cost, autonomous, educational robot based on NVIDIA's embedded
Jetson development platform
. The teaching materials start with the basics and focus on programming 'Jet', and move on to advanced topics such as computer vision, machine learning, robot localization and controls.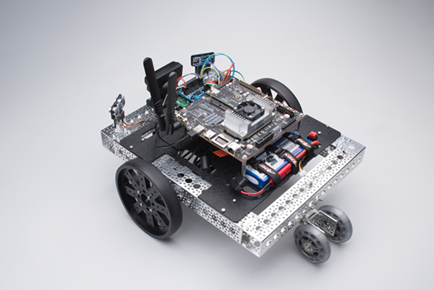 "We feel that we've just scratched the surface with what can be taught with Jet along with the NVIDIA TK1 and TX1.  The robot itself provides a versatile base and in combination with the NVIDIA boards makes for a great learning platform," said Professor John Seng at California Polytechnic State University in San Luis Obispo and co-developer of the Teaching Kit.
Learn more about the Jetson Embedded Platform >