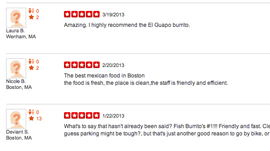 AI Writes Believable Fake Yelp Reviews
Researchers from University of Chicago developed a deep learning-based text generation system that can develop sophisticated reviews that are nearly impossible to detect.
In reference to how artificial intelligence can automatically write fake reviews, Ben Y. Zhao, a professor at the University of Chicago mentioned, "In general, the threat is bigger. I think the threat towards society at large and really disillusioned users and to shake our belief in what is real and what is not, I think that's going to be even more fundamental."
Using TITAN X GPUs and the cuDNN-accelerated TensorFlow deep learning framework, the researchers trained their Recurrent Neural Network language model on a subset of the Yelp Challenge dataset that consists of thousands of real online reviews, ranging from one to five star ratings.
Once trained, the researchers carried out a user study with 600 people, and not only did the fake reviews consistently avoid detection, but they provided the same level of user-perceived "usefulness" as real reviews written by humans.
"It remains hard to detect machine-generated reviews using a plagiarism checker without inadvertently flagging a large number of real reviews," the researchers wrote. "This shows that the RNN does not simply copy the existing reviews from the training set."



The system is also able to generate reviews for a variety of different ratings.
Example one-star review: DO NOT WASTE YOUR TIME AND MONEY! The absolute worst service I have ever experienced. This place is a joke. The waitress was rude and said she would put the manager to come out but never happened. I wish I could give zero star.
Example three-star review: I have been here twice, very expensive for what you get. We stayed here before at our table and were seated in a line for 15 minutes and the restaurant was full and the cashier recommended the drinks and they forgot the cookie cover charge and we were told it was not an issue. I would never recommend this place to anyone.
Can you tell which ones are real and which are fake?
Here are six reviews – three were generated by the researchers' neural network, while the others are real reviews cited in their paper.
Easily my favorite Italian restaurant. I love the taster menu, everything is amazing on it. I suggest the carpaccio and the asparagus. Sadly it has become more widely known and becoming difficult to get a reservation for prime times.
My family and I are huge fans of this place. The staff is super nice and the food is great. The chicken is very good and the garlic sauce is perfect. Ice cream topped with fruit is delicious too. Highly recommended!
I come here every year during Christmas and I absolutely love the pasta! Well worth the price!
Excellent pizza, lasagna and some of the best scallops I've had. The dessert was also extensive and fantastic.
The food here is freaking amazing, the portions are giant. The cheese bagel was cooked to perfection and well prepared, fresh & delicious! The service was fast. Our favorite spot for sure! We will be back!
I have been a customer for about a year and a half and I have nothing but great things to say about this place. I always get the pizza, but the Italian beef was also good and I was impressed. The service was outstanding. The best service I have ever had. Highly recommended.
Click on the link to find the answers.
Read more >