NVIDIA Nsight Systems 2021.3 is now available for download! 
Nsight Systems is a system-wide performance analysis tool, designed to help developers tune and scale software across CPUs and GPUs. 
Find out more at: https://developer.nvidia.com/nsight-systems 
This release introduces several improvements aimed to assist the user with locating issues and improve the profiling experience. User workflows are improved with both the introduction of the Expert System View which identifies problematic patterns, as well as the new ability to load multiple reports into the same timeline to investigate multi-process issues with greater ease. Nsight Systems now supports Windows 21H1 SDK, sample GPU PCIe BAR1 request activity, trace UCX asynchronous API calls, and trace Vulkan QueueSubmit or Direct3D12 ExecuteCommandList GPU workloads as a reduced overhead option.
Nsight Systems is part of a larger family of Nsight tools. A developer can start with Nsight Systems to see the big picture and avoid picking less efficient optimizations based on assumptions and false-positive indicators.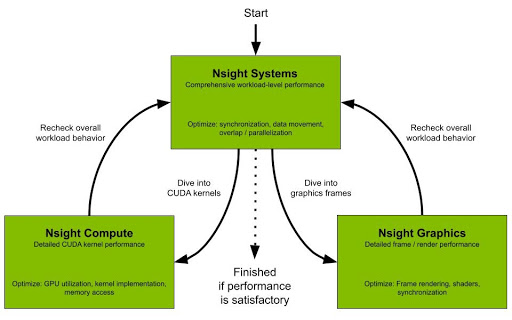 Check out our new blog "Understanding the Visualization of Overhead and Latency in NVIDIA Nsight Systems". And, if you are an nvprof or NVIDIA Visual Profiler user, be sure to read the blog posts [1], [2] & [3] to learn about migrating to their successors, Nsight Systems and Nsight Compute. Subscribe to our YouTube channel for future release highlights and feature spotlights.
Contact us at our forums and visit our product page to download the latest release of Nsight Systems.