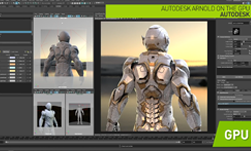 GTC 2019 Silicon Valley Preview: Media and Entertainment
NVIDIA's GPU Technology Conference (GTC) is the premier AI and deep learning conference, providing training, insights, and direct access to media and entertainment experts.
To give you a preview of the some of the conference sessions you can attend, we've put together a list of some the key sessions in each business area. This video focuses on the Media and Entertainment industry. 
Media and entertainment professionals rely on advanced technologies such as AI for content creation, 8K HDR video production, real-time ray tracing with physically-based materials to create complex effects and animations for Emmy-winning TV shows and Academy Award–winning feature films. The M&E sessions will cover how to effectively develop and create with today's storytelling tools.
To see a full list of all of the sessions, visit our GTC page.
Read more>