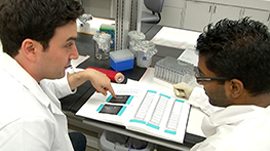 Applications Open: Compute the Cure Research Grant
The NVIDIA Foundation announced today the availability of up to two research grants worth $200,000 each as part of its Compute the Cure initiative to advance the fight against cancer.
The Foundation is seeking projects that use computational omics to dramatically impact the battle against cancer and reduce the time it takes for research outcomes to be used effectively in a clinical environment.  This opportunity is open to nonprofit research institutions and universities around the world.


Last year's grant was awarded to a research team at the University of Toronto, led by Dr. Brendan Frey, to support its work using deep learning techniques to identify cancer-causing mutations.
Through grants and employee fundraising efforts, NVIDIA has donated more than $2,000,000 to cancer causes since 2011.
Completed proposals are due by August 17, 2016.
Apply Now >>