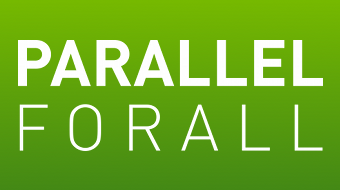 Today I'm excited to introduce you to the new and improved Parallel Forall blog. For over a year and a half, Parallel Forall has been a part of the NVIDIA CUDA Zone website. To better serve the parallel programming community, today we're launching a dedicated home for Parallel Forall.
In addition to a fantastic new design (including a mobile-friendly theme), the new Parallel Forall adds a host of great features that readers expect from a great blog. The most exciting of these are features that allow readers to engage with our stories and with each other: comments and social sharing buttons. You can comment at the bottom of any post. Above each post, you'll find convenient social media sharing buttons for Twitter, Reddit, Facebook, Google+, LinkedIn, and email. Please get involved in the conversation, and share it with your network.
Parallel Forall also now helps you find more content of interest. First is an improved search (see the search box in the sidebar). Second, at the bottom of each story, you will see recommendations for related posts. And finally, we're featuring our wonderful authors more prominently: each of their posts will feature their photo and bio, with a link to that author's archive page with all of their posts on Parallel Forall.
For the past few months, we have featured three regular post series, CUDACasts, CUDA Pro Tips, and CUDA Spotlights, so the new Parallel Forall menu bar highlights these series for quick access.
CUDACasts are short, informative "screencast" videos that teach you about parallel programming techniques and CUDA features and strategies.
CUDA Pro Tips provide concise, focused insight into useful techniques on the CUDA platform.
CUDA Spotlights are in-depth interviews with people who are using CUDA successfully for solving difficult problems across a broad range of fields.
In addition to these series, we will continue to feature a variety of in-depth posts and series on parallel programming on the CUDA platform, such as our popular Introduction to CUDA C/C++ series, and our recent posts on GPU computing in MATLAB and Python.
We hope you agree that Parallel Forall is a great resource for programming on the CUDA platform, and we need your help to make it even better. So visit Parallel Forall regularly, share posts with your friends, join in the discussion, and let us know what you like and what you'd like to read about in the future.