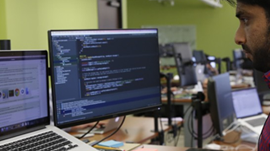 DataScience Raises $22M To Predict Customer Value, Reduce Traffic Deaths And More
Using the NVIDIA Tesla Accelerated Computing Platform in the Amazon Web Services cloud, this Southern California startup is supporting the City of Los Angeles with an initiative to eliminate traffic-related deaths.
The company uses a combination of in-house data scientists, proprietary technology and custom data models to help businesses do things like predict a customer's lifetime value and analyze the common features in negative online reviews. In just six short months since announcing the company publicly, DataScience has signed on innovative corporations across a range of industries; from social applications like Tinder, to consumer electronics companies like Belkin.


DataScience is supporting Los Angeles's efforts to eliminate traffic deaths by 2025 through pro-bono work with Vision Zero, a road-safety initiative that began in Sweden more than a decade ago. The initiative takes a data-driven approach to identifying problem areas on a city's roads and making much-needed safety improvements. The DataScience team downloaded and geocoded data from the Statewide Integrated Traffic Records System and will be integrating data from additional sources. Over the next year, they will be mashing up the gigabytes to identify the most effective mechanisms for reducing traffic fatalities.
"Many [existing] tools output a barrage of key performance indicators, which are scattered in different emails, PDF reports, and dashboard visualizations," said co-founder and CEO Ian Swanson in the funding release. "This results in wasted time and effort in trying to figure out where to focus to make impactful decisions. We designed DataScience to show customers precisely what they need to know to answer their toughest questions and to collaborate on those insights so they can quickly be put into action."
Read more about the news >>