For $200, AlemHealth has created Alembox which allows physicians to tap into a global network of radiologists and other specialists to get accurate diagnoses quickly.

The box will allow physicians in developing countries high-quality, low-cost health IT services over a 3G mobile connection where the latest medical equipment, personnel and expertise may be scarce.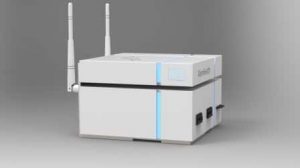 Developed with the Jetson TK1 devkit and powered by the NVIDIA Tegra K1 processor, quickly processes the often huge X-ray, MRI and CT scan digital files and then they're sent to a specialist in the U.S., Europe or India over a mobile connection using AlemHealth's low-bandwidth protocols. They assess the images and return a diagnosis in as little as 90 minutes. AlemHealth is also applying machine learning algorithms to bring new intelligence to the data sets they are building from images, patient histories and treatment plans.
As the AlemBox "can fit 10 to a backpack," their mobility means diagnostic services can be deployed in refugee camps and in emergencies, said Aschkan Abdul Malek, AlemHealth's co-founder and chief executive officer. "We are changing how health care is delivered."