Over the last decades, organizations of all sizes across the world have flocked to implement video management systems (VMS) that tie together the components of a video network infrastructure. By allowing businesses to easily capture, record, store, retrieve, view, and analyze video collected from their cameras, VMS can improve their operations, increase visibility, and enhance safety.
VMS infrastructure is now so pervasive that enterprises can no longer monitor the firehose of video streaming day and night. The growing need for scalable and real-time analysis of video is possibly the greatest driver today of AI in the enterprise. With vast amounts of video data to be analyzed in real time, smart video analytics call for edge AI technology, where the heavy computation executes in the field near sensors like video cameras.
Organizations across all industries are eager to add AI to their existing VMS to maximize the return on their initial investments and take advantage of this valuable data but, unfortunately, it is a difficult task.
Organizations must partner with an independent software vendor who provides an intelligent video analytics (IVA) application. The vendor must then develop, deploy, manage, and support their own integration for every application that the organization wants to run. It is a painstaking process that requires significant time, energy, and expertise to execute.
An NVIDIA Metropolis partner themselves, Milestone Systems is a global leader in VMS helping to address this challenge and make it easier for hundreds of other Metropolis IVA partners to expand accessibility to incredibly valuable vision AI applications.
John Madsen, a senior research engineer at Milestone, explains, "When you have thousands of cameras that are recording 24/7, how do you find the relevant data? With AI, our end users can find recorded events in their logs that they want to find in minutes instead of combing through hours and hours of footage. We want to help our end users find the relevant video footage and run live analytics."
Introducing AI Bridge
Milestone has embarked on a mission to help their customers get the most out of their existing VMS platforms. The result is Milestone AI Bridge.
AI Bridge is an API gateway that eases the integration of intelligent video analytics (IVA) applications with the Milestone XProtect VMS.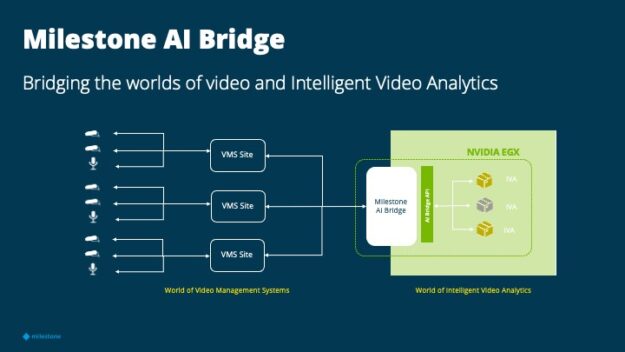 How AI Bridge works:
A camera sends video data to the VMS site.
The VMS site is connected to AI Bridge and sends video data back and forth.
AI Bridge connects the video from the VMS site to the GPU-accelerated IVA applications to run AI analytics and generate insights.
The insights are then fed back into the VMS so that actions can be taken based on whatever insight is provided from the AI application.
With AI Bridge, Milestone users can now instantly integrate third-party AI models into their own video systems. Milestone users are typically application providers or independent software vendors that help organizations create IVA applications.
To get access to AI Bridge from Milestone, create an account with the NGC catalog.
AI Bridge in action
Another NVIDIA Metropolis partner, DataFromSky is using AI Bridge to provide AI solutions for smart parking, traffic control, and retail.
One of their customers, the Køge Nord Train Station, located near Copenhagen, was experiencing large volumes of commuter congestion. For many commuters, a lack of parking spots and traffic congestion can lead to frustration, wasted time, accidents, and even missed trains or buses.
To solve this, DataFromSky built an intelligent parking application that monitors parking lots for occupancy, enables mobile payments, and navigates drivers to empty parking spots. With the addition of AI, each camera installed on the parking lot is able to monitor up to 400 parking spots in real-time. All this results in commuters having smoother and better travel experiences.
Thanks to AI Bridge, DataFromSky is able to integrate AI solutions into their customers' existing camera infrastructure easily. This results in a significantly faster installation time, especially critical for larger deployments that may span hundreds of cameras.
Bringing AI Bridge to life
In building AI Bridge, Milestone knew that they needed to work with a partner that had deep roots in the AI community. That is why they chose NVIDIA.
"Our VMS works on a Windows platform which is very different from the AI community which uses modern software such as Linux, Kubernetes, and Docker," says Madsen, "Working with NVIDIA allows us to modernize our stack and makes it extremely easy for us to work with the AI community."
Milestone leveraged a wide array of NVIDIA AI products to make AI Bridge possible.
NVIDIA-Certified Systems provide enterprises with optimized hardware to enable quick and efficient video processing and inference that can be scaled across many cameras.
The NVIDIA Metropolis platform is an application framework that simplifies the development and scale of IVA applications for connecting to the AI ecosystem.
NVIDIA Fleet Command is a managed platform for container orchestration that streamlines the provisioning and deployment of systems and AI applications at the edge.
Milestone leverages Fleet Command to deploy the AI Bridge API remotely onto dozens or even thousands of edge systems within minutes.
"A big challenge is not just the integration, but deploying the analytics on-premises and how you manage it," added Madsen. "This is why we turned to NVIDIA Fleet Command."
Fleet Command also provides a single control plane for IT administrators to securely manage all AI applications through one dashboard. This makes it the ideal way to accelerate deployments, POCs, and edge infrastructure management.
The use cases of IVA
IVA promises to bring new, intelligent use cases across every industry. Some of the transformational use cases include the following:
Automating processes
Improving customer experience
Responding to emergencies
Tracking assets
Improving supply chain efficiency
Any enterprise interested in driving safety, effectiveness, and efficiency should consider the benefits that edge AI brings to video. For more information, see the countless possibilities that IVA can bring to your business.