Are you looking to grow your technical skills with hands-on, instructor-led training? The NVIDIA Deep Learning Institute (DLI) is offering full-day workshops at NVIDIA GTC, March 21-24. Register for a workshop and learn how to create cutting-edge GPU-accelerated applications in AI, data science, or accelerated computing.
Each hands-on session gives you access to a fully configured GPU-accelerated server in the cloud, while you work with an instructor. Along with learning new skills, you will also earn an NVIDIA Deep Learning Institute certificate of subject matter competency, which can easily be added to your LinkedIn profile.
During GTC, all DLI workshops are offered at a special price of $149 (normally $500/seat.) NVIDIA Certified Instructors, who are technical experts in their fields, will be leading all eight DLI workshops.
Below are three subject matter experts looking forward to working with you next week.
Get to know some of DLI's certified instructors
David Taubenheim, Senior Data Scientist at NVIDIA
David joined NVIDIA 3 years ago as a Senior Solutions Architect (SA) and plays a key role in a variety of strategic Data Science initiatives. He recently transitioned to the NVIDIA Inception Program teams, where he helps startup companies disrupt their market with accelerated computing and AI. He also completed a rotational assignment with the NVIDIA AI Applications team to develop better language models for neural machine translation. David's technical specialty is NLP applications with GPU-accelerated SDKs.
"It happens pretty often that I'm approached by a client with a fantastic idea for a deep learning (DL) application but who isn't quite sure how to get started. That's one of the reasons I enjoy teaching the Fundamentals of Deep Learning course. I know I'm enabling people to do their best work and create something novel with DL. Each time we approach the end of a full day of hands-on labs, I can sense the 'a-ha!' moment as students learn how to use our SDKs and practice training DL models. When they enthusiastically want to take their finished code and final project home with them, I'm so pleased they'll have a starting point for their idea!"
David earned a BS in Electrical Engineering from the University of Illinois Urbana-Champaign, and an MS from National Technological University. Before NVIDIA, he spent 25 years at Motorola and the Johns Hopkins Applied Physics Laboratory.
David is teaching the Fundamentals of Deep Learning workshop at GTC.
David Williams, FinTech Solutions Architect at NVIDIA
As a Solutions Architect on the Financial Services team, David is helping payment companies adopt GPUs and AI. He teaches workshops focused on NLP applications, using models critical to understanding customer and market behavior. According to David, the wide-ranging use cases of NLP also provide an amazing opportunity to learn from students in completely distinct fields from the one he spends time with in his 'day job.'
"I have a passion for teaching, which comes from both the joy of seeing others learn as well as the interaction with such a diverse range of students. DLI provides a great environment to lay the vital foundation in complex topics like deep learning and CUDA programming. I hope participants in my classes can easily grasp the most important concepts, no matter the level they came in at. Leading workshops at GTC, customer sites, and even internally at NVIDIA, introduces me to such varied backgrounds and experiences, my teaching provides me an opportunity to learn as well."
David earned both a BS and MS in Computer Engineering from Northwestern University.
He is teaching the Building Transformer Based Natural Language Processing Applications workshop at GTC.
Gunter Roth, Solutions Architect at NVIDIA
Along with being a Solutions Architect, Gunter manages many of the platform admin tasks for Europe, the Middle East, and Africa (EMEA) DLI workshops. While in that role he is actively spinning up GPU instances, minimizing downtime time for students and helping them get to work in their notebooks quickly.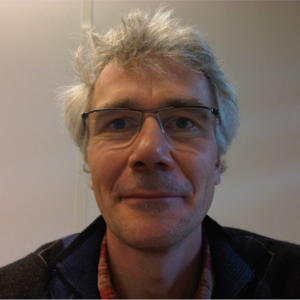 "From my first day at NVIDIA, it was clear that teaching courses through DLI would be a simple, but highly efficient way to scale technical training for developers. Teaching the basics of CUDA or deep learning in rooms packed with eager students is certainly not always easy, but is a satisfying and rewarding experience. Using notebooks in the cloud helps students focus on the class, instead of spending time with CUDA drivers and SDK installation."
He has a Master's degree in geophysics from the Institut de Physique du Globe, in Paris and a PhD in seismology on the use of neural networks for interpreting geophysical data.
Gunter is certified to teach five DLI courses, and will be helping teach the Applications of AI for Predictive Maintenance workshop at GTC.
For a complete list of the 25 instructor-led workshops at GTC, visit the GTC Session Catalog. Several workshops are available in Taiwanese, Korean, and Japanese for attendees in their respective time zones.