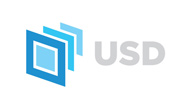 RunUSD is a set of Omniverse Cloud APIs that lets tool developers validate OpenUSD compatibility of their applications against a range of OpenUSD versions and configurations.

RunUSD will be updated according to the standardization and specification released by the Alliance for OpenUSD (AOUSD).

The RunUSD validator service is now available in early access as a web demo experience. Join the NVIDIA OpenUSD Developer Program to try it now.


Try It Now
---
Get Started
To validate your OpenUSD assets, just follow these steps:


1
Register for an Account and Log In
Join the NVIDIA OpenUSD Developer Program free of charge and access the latest NVIDIA SDKs and tools to accelerate your applications.
2
Upload Your USD Files
Drag and drop your OpenUSD archives or assets into the browser. (maximum file size 1GB).

Currently, only USDZ packages are supported.
3
Verify the Asset
The RunUSD validator service will validate if the file is USD compatible. NVIDIA Omniverse Cloud will generate path-traced imagery of the USD asset.
4
Receive a Validation Report
A JSON-formatted report details the results of running the validation rules on your submitted OpenUSD content.

For questions check out the developer forum.
Want to include an OpenUSD validator in your own application?
The RunUSD Validation Service will become available soon as a set of APIs.