NVIDIA RivermaxDisplay
Simplify your transition to SMPTE ST 2110 standards with NVIDIA RivermaxDisplay, the software application that turns any PC into an SMPTE ST 2110-compliant source with NMOS support.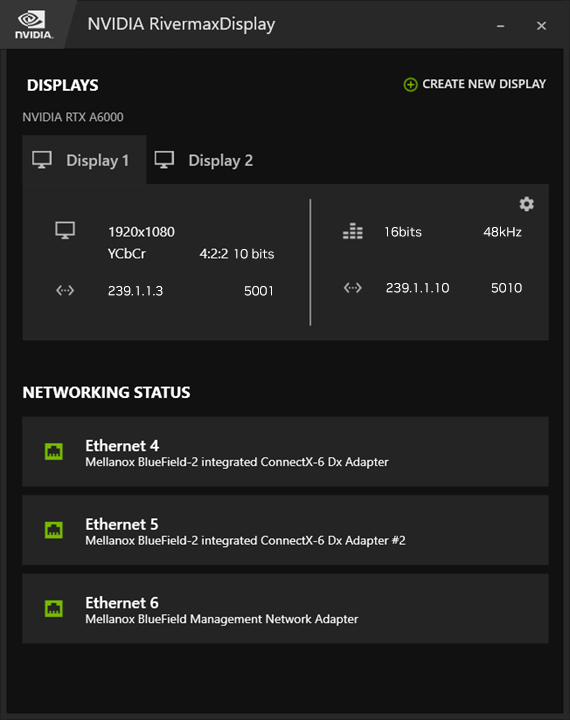 ---
Benefits
SMPTE ST 2110 Compliant
Provide fully compliant SMPTE ST 2110 content from any Windows machine with native fiber connectivity.
Easy-to-Navigate User Interface
Easily deploy SMPTE ST 2110 content with little to no experience or knowledge
Embedded NMOS
Easily connect to any other SMPTE ST 2110 device on the network through embedded NMOS.
Accurate PTP
Take advantage of hardware-based PTP through NVIDIA FIrefly and BlueField DPU.
Support for Multi-Display and Multi-GPU
Power LED walls with support for synchronized multi-display outputs and multi-GPU.
Flexible Outputs
Output any video resolution, any FPS, and any color space.
---
Hardware Requirements
Required hardware to test and deploy RivermaxDisplay includes:
GPU
NVIDIA Professional GPUs from data center to the cloud provide an extensive suite of solutions for broadcasters that boost performance, reliability, and flexibility. The addition of GPUs delivers exceptional AI, graphics, and compute power at a fraction of the cost, space, and power of CPU-based solutions while enabling deployment on virtual servers.
ConnectX SmartNIC
NVIDIA ConnectX Ethernet SmartNICs offer best-in-class network performance, serving low-latency, high-throughput applications with one, two, or four ports at up to 400 gigabits per second (Gb/s) Ethernet speeds. They accelerate virtualized data centers while enabling a broad range of software-defined capabilities.
Note: PTP is not available on ConnectX SmartNIC
Bluefield DPU
The NVIDIA® BlueField® data processing unit (DPU) is a modern data center infrastructure on a chip, delivering accelerated software-defined networking, storage, security, and management services. 
BlueField accelerates data-intensive tasks by offloading, accelerating, and isolating a broad range of advanced networking, storage, and security services. It also provides virtual machines with accurate timing by running PTP on its Arm processor.
Learn more about the Rivermax SDK, the optimized networking SDK for media and data streaming applications.