NVIDIA Omniverse Replicator
NVIDIA Omniverse™ Replicator is a core extension of the Omniverse platform that lets developers easily build custom synthetic data generation (SDG) tools and pipelines. You now have a faster way to generate physically accurate synthetic data for training computer vision AI models and networks.
Download Omniverse
Get Started Building
---
Benefits of Developing with Omniverse Replicator
Accelerated AI Training
Bootstrap your computer vision model training process by quickly prototyping with synthetic data across a multitude of domains before training on real data.
Accurate AI Models
Increase model accuracy by generating diverse, photoreal, and physically accurate training data by varying lighting, object poses, scenes, and more.
Scale Up and Out
Generate large datasets quickly by easily scaling across multi-GPU, multi-node compute resources—either on premises or in the cloud.
Privacy and Diversity
Address privacy issues and reduce bias by generating diverse datasets to represent the real world.
---
Building Synthetic Data Pipelines
Multiple domains use Omniverse Replicator to build robust, iterative synthetic data generation pipelines.
Defect Detection
Robots
Self-Driving Cars
Custom Applications
---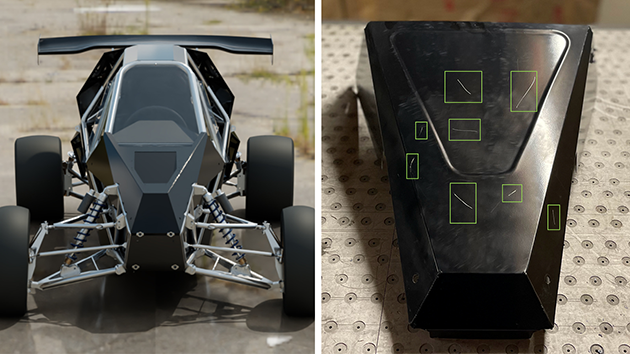 Generate Synthetic Data for Defect Detection
Learn how companies are using Omniverse Replicator to generate 3D synthetic data to detect defects in industrial digitalization.
Read the Blog
Watch the Tutorial
Inspect Your Data With Replicator Insight
Available in the Omniverse Launcher, the Omniverse Replicator Insight app enables developers to quickly view, navigate, and inspect their synthetically generated renders.
Apply for Early Access
---
Built on Omniverse Replicator
NVIDIA and the developer ecosystem have built domain-specific synthetic data generation tools on Omniverse Replicator. Explore ready-made tools and get started on your synthetic data workflows today.
Self-Driving Cars
DRIVE Sim
NVIDIA DRIVE Sim™ is a high fidelity, physically based platform for end-to-end autonomous vehicle simulation. DRIVE Sim leverages the capabilities of Omniverse Replicator to generate pixel-accurate ground truth synthetic data for training, testing, and validating autonomous vehicle perception algorithms.
Explore DRIVE Sim
Robotics
Isaac Sim
NVIDIA Isaac Sim™ is a scalable robotics simulation application and synthetic data-generation tool that powers photorealistic, physically accurate virtual environments to develop, test, and manage AI-based robots. Isaac Sim uses Omniverse Replicator as its powerful synthetic data-generation engine.
Explore Isaac Sim
---
---
Access
Deployment Options
On Premises
NVIDIA RTX Systems
The unrivaled power and capability found in the latest generations of NVIDIA RTX™-enabled GPUs deliver the performance needed for the real-time, multi-app, and AI features built into Omniverse.
Learn More About NVIDIA RTX Systems
Cloud
Omniverse Cloud
NVIDIA Omniverse™ Cloud is a cloud services platform that enables development, deployment, and management of advanced 3D applications and pipelines. Omniverse Cloud developer APIs are coming soon.
Learn More About Omniverse Cloud
Omniverse Cloud APIs Are Coming Soon
Are you a developer looking to leverage the cloud to build metaverse apps and services? Sign up to be notified.
Notify Me
Community
Become a Part of Our Community
Become a part of a global network of 3D creators and developers connecting and creating virtual worlds with NVIDIA Omniverse.
Join the Community
Get Live Help
Connect with Omniverse experts live to get your questions answered.
Explore Resources
Learn at your own pace with free getting started material.
Stay up to date on the latest NVIDIA Omniverse news.
Subscribe