Announcing GTX980 Notebooks: The VR Developer's Dream
Content creators have been asking for VR ready performance in a laptop. This week we announced the availability of notebooks containing the power of the GTX980 GPU.
These notebooks use the same 2,048-core GM204 GPU found in our GeForce GTX 980 graphics cards. They're equipped with GDDR5 memory, fast CPUs, multiple USB 3.0 ports and direct HDMI out, making them the world's first notebooks to meet (and exceed) the recommended spec for Oculus Rift.
These machines are designed for heavy-duty gaming and game development. Both the CPU and GPU are over-clockable. Many are equipped with G-SYNC display technology for stutter-free, tear-free frame delivery. And those are just the highlights.
Whether a developer is showcasing a new VR demo at an event or creating the next killer VR app, GeForce GTX 980 notebooks can deliver on the go. Borrowing a rig or safely packing one up to hit the road is now a thing of the past.
The first GeForce GTX 980-equipped notebooks will be available in October. The full list of OEMs include: MSI, Aorus, ASUS, Clevo, Origin PC, Maingear, Falcon NW, Digital Storm , Sager, XMG, PC Specialist, LDLC, Hyperbook, G-Tune, AfterShock, BossMonster, Metabox and Terransforce.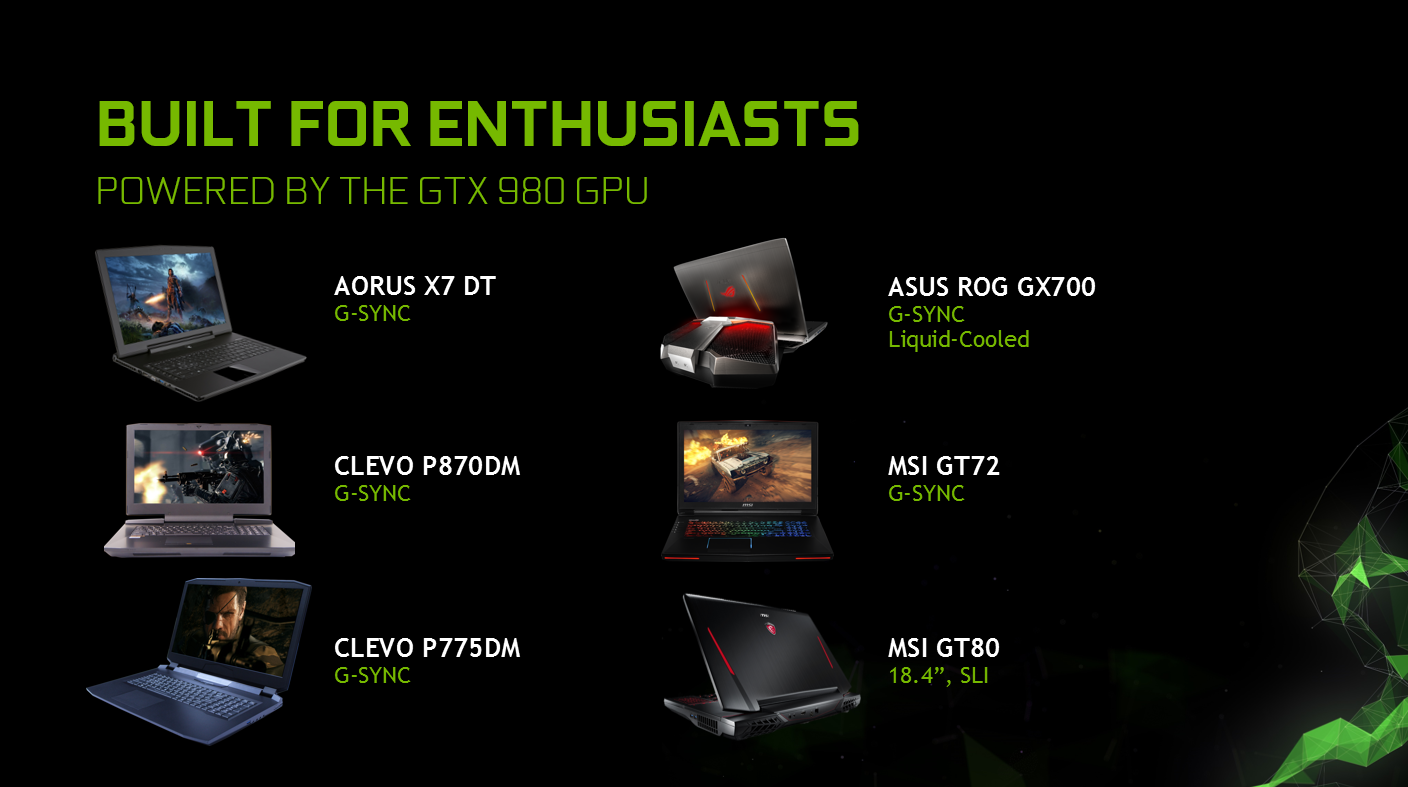 The GTX 980 notebook includes a fully loaded GTX 980 GPU in a laptop form factor. It's a great platform for utilizing Unreal Engine 4's high-end features, such as physically based shading, DirectX 12 and virtual reality device support.

Tim Sweeney, founder and CEO of Epic Games.
GameWorks VR SDK Update
To coincide with the release of this new hardware, our GameWorks VR SDK gets an update with the following features:
GeForce GTX notebook support
VR SLI enhancements when using Direct Mode
Expanded head-mount display supported
Bug fixes and stability improvements
Find out more about GameWorks VR here

Check out our GeForce.com page for more details