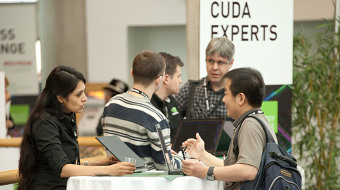 NVIDIA's GPU Technology Conference (GTC) 2013, scheduled for March 18-21, is the premier event for accelerated computing. This will be the fourth GTC and it just keeps getting better. If you haven't been to GTC before you won't be disappointed. Thousands of developers and research scientists from over 40 countries will converge on the San Jose Convention Center in California to talk shop across a wide-array of computing and research disciplines.
I will be giving a talk on future directions for CUDA that I hope you will attend, as well as a tutorial introduction to CUDA C/C++.
GTC will have many sessions on a wide variety of topics so I'm sure you will find much of interest. Here's a small sample of session topics from GTC 2013.
Algorithms and Numerical Techniques
Bioinformatics and Genomics
Climate, Weather, Ocean Modeling
Computational Chemistry
Computational Fluid Dynamics
Computational Physics
Development Tools and Libraries
Parallel Programming Languages and Compilers
Supercomputing
This year, GTC is expanding to include more sessions on the use of GPUs in mobile computing, cloud graphics, game development, media & entertainment, and manufacturing.
In addition to the sessions, we have a full day of pre-conference tutorials taught by NVIDIA research and engineering staff who are pioneering the next generation of GPU computing solutions. There is no additional cost for the tutorials when you buy a Full Conference Pass.
Beyond the formal curriculum, GTC provides a wealth of great networking events and opportunities. GTC attracts some of the top people in their fields, all working with GPUs and related technology, so you are certain to have lots of valuable conversations and meet interesting people—I know I always do.
Finally, if you'd like to share your research at GTC, there is still time to submit a research poster proposal. The Call for Posters remains open until February 4, 2013. For detailed submission instructions and to read about the benefits of presenting, please visit the Call for Submissions page.
I look forward to seeing you in San Jose!